Volvo PV 56
fully assembled in scale 1:87 (H0)

A new series of cars called PV53-56 was introduced in the autumn of 1938 and replaced the older models PV51-52. The new models had softer suspenstion, an improved steering as well as dashboard and interior updated compared to the older models. The cars were also fitted with a more modern front.

Produced versions:
1938–1945
PV53 base model, 1204 cars were built
PV54 base model with larger boot, 814 cars were built
PV55 de lux model, 286 cars were build
PV56 de lux model with larger boot, 1321 cars were built

During the war time years Volvo developed a wood gas generator. It was equiped with a single supporting wheel and thus could easily be trailed behind the car. The wood gas generator was used primarilly by the few civillians and enterprises that were allowed to use their cars.

During WW2, the deliveries of new cars was dominated by a police version as well as a radio car for the army (later converted into a staff car). As both the police force and the army had access to petrol, no wood gas generator was needed.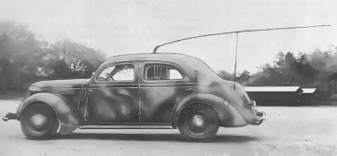 The radio cars for the army had a long antenna mounted on top. The radio equipment was placed inside the car in front of the back seat (seen as a shadow in the picture). During transport he antenna was folded backwards but when standing still it was raised and stabilized to the ground or high trees thus giving the radio a much longer range.

As the cars had limited movements in the terrain the radio equipment was removed after a very short period of time and the cars were used as staff cars. The cars were sold off by the army duing the 1950's.

Specifikation of the model
The models are all limited editions fully assembled
There are four different models:

Black with wood gas generator,
Maroon (brown-red) with wood gas generator,
Police and
Military in camouflage painting.

The interior is painted in grey.
The steering wheel and the gear handle is etched.
Detailed dash board.
Extra details: whipers and outer mirrors.
The wood gas generator (not police and military mode) is painted in silver and may be removed.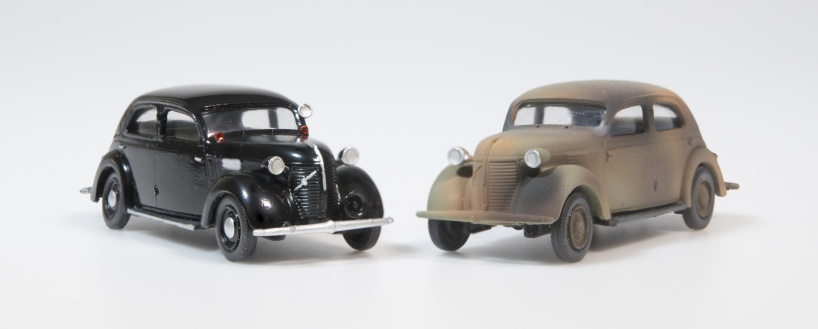 Police and military staff car.
| | |
| --- | --- |
| Volvo PV 56, black with wood gas generator | 380:- |
| Volvo PV 56, maroon with wood gas generator | 380:- |
| Volvo PV 56, police version | 380:- |
| Volvo PV 56, military staff car | 380:- |